Have a drink with: the Yale Bowl
Stadium, immovable earth beast, cradle of American football
Ask it about: what it wants for its 100th birthday.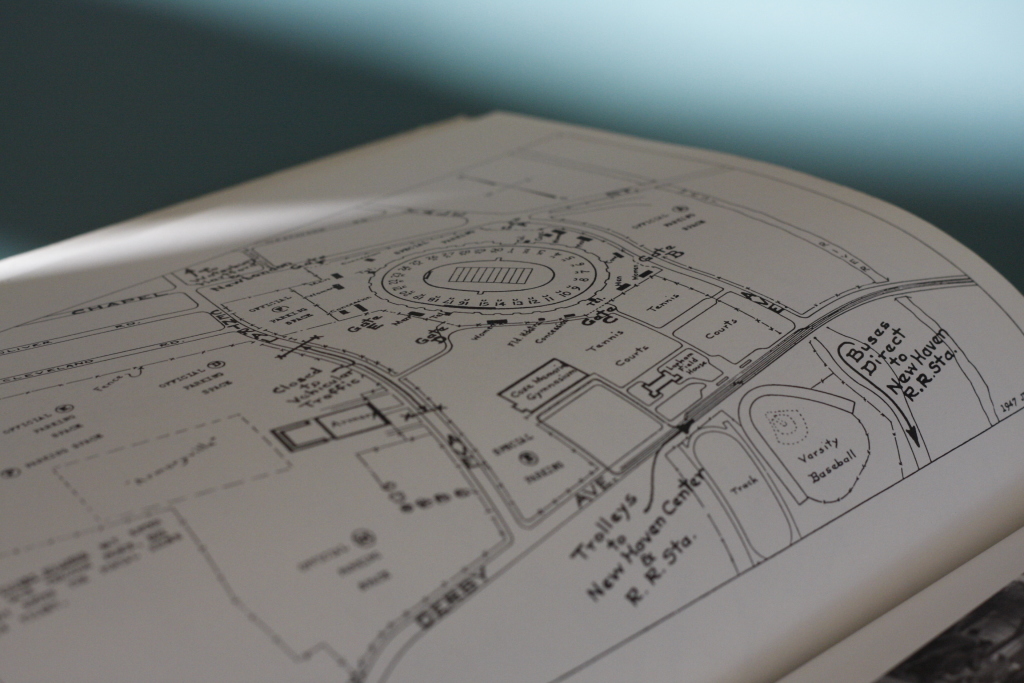 In 1914, Yale University celebrated the completion of one of its largest and most famous construction projects, the Yale Bowl.  More than a stadium, much more than an Ivy League niche item, the Bowl is a physical point on the continuum of football's growth as a sport.
Yale was instrumental in starting, growing and formalizing the game we know and watch in America today.  (No, really!  Ivy League football!)
To understand why this is true, let's take a crash course in American football:
In the late 1800's, clusters of Ivy League students start playing matches that resemble soccer, rugby or a hybrid of the two.  At this point, college football looks more like a neighborhood pick-up game than a structured sport – team members meet before each game to decide on the rules they'll use that day, and act as their own coaches.
Thanks to a 19th century philosophy called "Muscular Christianity," football plugged right into a broader desire to embrace rugged, active masculinity.  The YMCA is also an outgrowth of this popular philosophy, which drew on the New Testament to suggest that physical health and moral character were linked. You may have heard the old (mis)quote about the Battle of Waterloo being won on the playing-fields of Eton, which is a product of this time and mindset.
So college students start playing football, making it up as they go, and take to the game like a hammer to a nail. More and more people start to take notice: students love the excitement, outside spectators begin to show up, and college administrators alternately support the game's spirit and worry about its violent tendencies.
Players start braining each other regularly, and come up with plays largely based on their potential for danger and their ability to sustain cool names like "flying wedge." 19th century football players were not thinking about concussions, they were too busy worrying that someone would have to bring them home in a coal bucket.
Players die.  Regularly.  Protesters call the game barbaric and lobby to abolish the sport.
Teddy Roosevelt, a man who regularly tap-dances on moose and thinks nothing of it, says, "Guys, really, this is OUT OF CONTROL."  In conference with some of the era's leading coaches (including Yale's Walter Camp), Roosevelt steps in to solidify the rules of football while making sure the game keeps its rugged charm and bruising potential.
Even if you've never heard of this Washington meeting before, it left two major legacies, both of which you're probably familiar with: the forward pass and the National Collegiate Athletic Association (NCAA).
Fast-forward a few years.  By 1908 it had become clear that the old Yale Field's 35,000 seats could no longer contain weekly football crowds, and a committee of 21 alumni was selected to make plans for a new venue.  The committee didn't want Yale involved in fundraising, and decided to bankroll stadium construction with an early form of crowdfunding: contribute a hundred dollars or more, get a set number of seats (proportional to the donation) for twenty years.  The Bowl handily paid for itself.
This represented a real step up from the football venues common to the era: for much of the sport's early history, teams would travel to find fields suitable for the game (and often simply play for themselves), and only after decades of play did football have enough cohesion and fan interest to start generating regular crowds in the five figures.  In building the Bowl to hold 70,000 fans, Yale was acknowledging football's growth potential and banking on it.
The construction plan was simple, and strong: dig a very large hole in the ground, and use excavated earth to create giant retaining walls around the oval floor.  (It's a giant, formalized divot.)  The stadium is accessed by any of 30 portals that enter seating areas halfway up the stands; a portion of seating and the playing field both lie below ground level.  There are no columns or support structures, no lights, and bench seating.
The simple, imposing stadium design surprised some (particularly as Harvard had built its very Roman stadium in 1903), but greatly pleased Yale's president Arthur Twining Hadley, who loved the humble charm of the "Bowl" nickname.  The Bowl was dedicated on November 21, 1914 for the 35th Yale-Harvard game – which, regrettably, the Bulldogs lost 36-0.  That day's New York Times noted:
"We suppose the Yale Bowl, which is the vastest amphitheatre of ancient or modern times, can be seen through a telescope from Mars. A Martian, told that 70,000 of earth's people will witness today within its rim — which would swallow VESPASIAN'S Colosseum — a contest between two great educational institutions, might be astonished to discern that it is not a literary contest."
Even through World Wars and Depression football maintained its popularity, and probably helped a fair amount by offering crowds an entertaining escape from reality.
The Yale Bowl and its link to local transportation went a long way in establishing the modern culture of sport as destination: the first trolley systems in the U.S. went into operation at about the same time as football was catching on, and New Haven's horse-drawn rail system was electrified in 1894-95.  The first half of the 20th century was an age of increasing suburbanization and, as people moved away from cities, it became more necessary and frankly more attractive to have someplace to go for entertainment. Since New Haven was a rail center, people could come from New York, take trolleys out to Westville for a game, and be home in the course of a day.
On the Yale Bowl's opening day, the New York, New Haven & Hartford Railroad added 43 special trains of 10-12 cars each, and after the Game trains left New Haven station every 3 minutes.
The NFL's predecessor entity – the American Professional Football Association – was founded in 1920, in a further effort to structure an increasingly popular sport and give it a professional culture beyond student play.  A draft of college players began in the 1930's. Over time, football became more of a business, too – teams really becoming their own financial entities, cities competing for franchises, network television rights coming into play.  All this is to say that, by the 1950's, a stadium built to hold 70,000 people for weekend football didn't seem outlandish at all.
The Yale Bowl is 930 feet long and 750 feet wide, covering twelve and a half acres. More than 320,000 cubic feet of earth was moved to form the stadium, which contains some 22,000 cubic yards of concrete and 470 tons of steel. Nearly thirty miles of seating contribute to a seating capacity of 61,446 (it was originally more than 70,000 before alterations) and every seat has an unobstructed view of the field. Capacity has certainly been stretched over the years; Sam Rubin notes in his book about Yale football that in 1923, a record crowd of 80,000 people packed the stadium for the Yale-Army game.
The stadium inspired other famous stadium designs and even the use of the term "bowl" to describe football's great arenas and post-season matches.  Think of the L.A. Coliseum or the great Michigan stadium, the Rose Bowl, the Sugar Bowl, the Super Bowl.
The Bowl has seen its share of milestones: since its dedication, the stadium has hosted hundreds of college football games, two seasons of NFL play, a number of concerts, the 1995 World Special Olympic Games, and at least one wedding.  The Bowl is a designated National Landmark.
In the Bowl in the season opening game against Dayton in 2000, the Yale team became the first college football team in the country to surpass 800 wins (quickly overtaken by the University of Michigan thanks to the fact that they have more games in a season, also a viable football program).
To learn more about the Yale Bowl, check out this great video from Connecticut Public Television.
Fun Facts:
The local Shake Shack walls are made from old Bowl bleachers.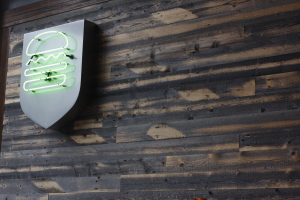 Larry Kelley and Clint Frank won the Heisman in 1936 and 37, respectively, only the 2nd and 3rd men to ever win the award.
Albie Booth, a small New Haven local nicknamed "Little Boy Blue," 1929 vs Army, registered what's regarded as one of the single greatest football games: he scored three touchdowns (one a 70-yard punt return) and kicked the extra points himself, clocking 223 yards on 33 carries.  Watch for yourself!
The New York Giants played their home games in New Haven during 1973 and 1974.
The Yale Bowl is totally viewable from 26,000 feet.
Watch pro golfer Rory McIlroy hit a tennis ball through the tunnels.
The Cement Era" talks about construction and notes a total project cost of $400,000 – or $6 per seat.  In 2014 dollars, that's about $140 a seat, for a total cost of $9 million and change.
Additional reading:
Yale Football, by Sam Rubin
Nice infographic from Yale, and check out the Athletics department and the local Register too.
NYTimes coverage includes 9/3/00 – The Place is Often the Draw, some 2004 notes on renovation, and, as a guest at a lecture of mine noted, mention that there are no locker rooms.
Check out some great old photos and signs from the Yale Bowl's trolley era.
John J. Miller, The Big Scrum: How Teddy Roosevelt Saved Football
Thomas Bergin, The Game