Have a drink with: The American Voter
On Tuesdays we wear white.
Ask her about: Her "citizen's right, guaranteed to me and all United States citizens."*
In case you need some historical comfort for your Election Day habits:
Compulsively clicking "refresh" on FiveThirtyEight? We get it. P.T. Barnum got it, too, which is why he offered a daily "Presidential Test Vote" at his American Museum (open to women as well as men!) and fed results to the daily papers:
"Women as well as Men vote at BARNUM'S MUSEUM All this week. Now is the time, Ladies, to show your preference. The vote will be taken, and the curiosities and entertainments of the museum increased in proportion."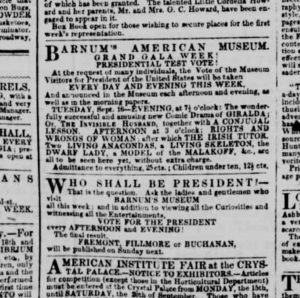 (While at the Museum, you could conveniently escape your polling anxiety with "Two LIVING ANACONDAS, a LIVING SKELETON, the DWARF LADY, a MODEL of the MALAKOFF, &c.")
Standing up for Nasty Women, Bad Hombres and Canadians? The Norwich (CT) Bulletin of October 30, 1918 reminded everyone that men are an important part of feminism (and that Justin Trudeau isn't the first time Canada has lapped us in the awesomeness department):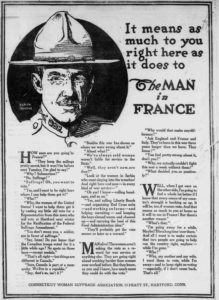 Going to stay up late to see the poll results come in? It took a little more than a late night in 1860, since the Pony Express was involved, but the Mountaineer of Great Salt Lake City was determined to speedily update citizens on the election that would ultimately precipitate the Civil War:
Really just want to spend the evening drinking? The Washington Herald raced to the rescue in 1912 with some snappy election-night cocktail recipes. You might reach for the Bull Moose cocktail, invented as it was by an "insane Swede," but don't overlook the Tom-Tom, which includes moonshine whisky, cayenne pepper, Tabasco sauce and, one imagines vitally, "a dash of waw-waw."

Feel like political dialogue is incomplete without name-calling? Check. Amidst the Panic of 1893 and national depression and debate about the American monetary standard, the Caldwell Tribune had some choice words for Grover Cleveland.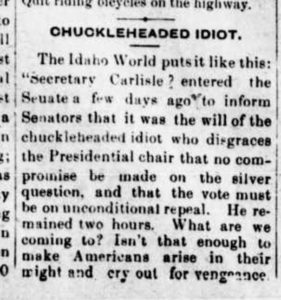 Media Break:
Well done, sister suffragette!
Lyle Lovett's "Election Day"
Anyone else totally in the mood to watch "Dave?"
Additional Reading:
All papers courtesy of the amazing Chronicling America database:
The New-York Tribune, September 16, 1856
The Norwich Bulletin, October 30, 1918
The Mountaineer, November 13, 1860
The New York Herald, June 19, 1873
The Caldwell Tribune, October 21, 1893
* Leon Stein & Annette K. Baxter, eds., Women in America: From Colonial Times to the 20th Century (1974): An Account of the Proceedings on the Trial of Susan B. Anthony, on the Charge of Illegal Voting, at the Presidential Election in Nov., 1872