Have a drink with: Your Friendly Postwar Congressional Republicans
Reducing sauces AND the national debt…
Ask them about: Recipes for your Labor Day cookout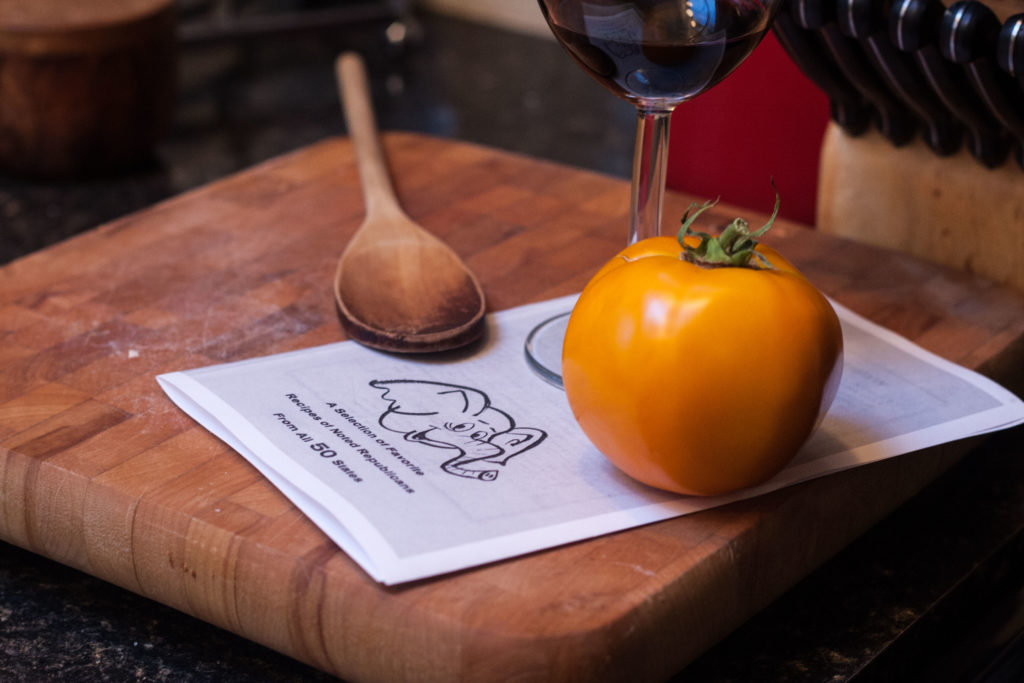 In 1962, then-Congressman Gerald Ford lent his name to The Republican Congressional Cook Book, a collection of recipes and peppy political axe-grinding given to constituents.
"It is our hope that as you read this Cookbook and use its recipes," the book begins, "you will enjoy cooking, which is one of the few things not yet regulated by the Federal government." Ha!
The recipes are entertaining, putting the bizarre, convenience-focused culture of postwar American cooking on full display. (Canned goods! Adventurous Ethnic Recipes! Ham Loaf!)
Some sound great: Vermont's pancakes and syrup; Narragansett Bay clam chowder; hush puppies, Virginia spoon bread, jambalaya and chili. Others are terrifying (Rice, Tuna & Cheese Sauce, Missouri? WTF?). But let's high-five South Carolina, which cuts the crap and puts down a high-octane "Dragoon Punch" recipe that involves more than five quarts of rum and brandy, noting: "The astounding quantities of this recipe seem to fit well with its hard-riding title."
New Jersey offers Pork Cantonese (don't forget the MSG!); Massachusetts representative Silvio Conte takes up a page and a half describing an elaborate Paticcio di Lasagne Verdi al Bolognese; and my home state of Connecticut, somewhat confusingly, goes for shrimp curry. "General Eisenhower's Beef Stew" gets its own page. (Serves 60.)
The cookbook has more to communicate than cooking advice, though; interspersed with the recipes are little sidebar jabs at the Democratic "New Frontier" and the Kennedy administration's spending:
"This Administration has turned the U.S.A. into the I.O.U.S.A."
"Nobody can accuse the New Frontier of undemocratic favoritism. Its members have picked the pockets of ALL taxpayers."
"Washington cab drivers complain that the New Frontiersmen are poor tippers. All of which proves they're more careful with their own money than with ours."
The last page of the cookbook lists the five "Basic Beliefs of Republicans," among them Government With a Heart: "We believe that government must act to help establish conditions of equal opportunity for all people and to help assure that no one is denied the requisites for a life of dignity."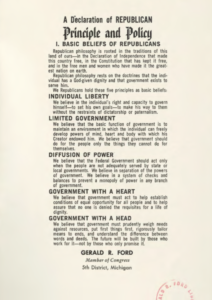 We miss you, Good Old Party.  Come back.  And bring some ham loaf while you're at it.
Fun Facts:
The preface notes that among the recipes are American flavors, Mexican dishes, and "…the delicate taste of China, dating from the days when its people had food." I can't even.
Dwight Eisenhower was one of the Republican Party's most eager chefs. This fantastic write-up by Carl Anthony goes into Ike's affinity for the grill, includes a cool detour into the mid-century appeal of the Japanese hibachi grill for those short on space, and reprints the President's recipes for barbecue sauce, green goddess dressing and roast chicken.
Mark Bittman's summer vacation recipe last month was the "Eisenhower steak," a campfire-grilled piece of beef apparently favored by the 34th President.
BEHOLD: CROWN ROAST OF WIENERS.
Additional Reading:
The Republican Congressional Cook Book (with best wishes from Gerald Ford…)
O Say Can You See? @ Smithsonian, Postwar Potluck: Grilling out, convenience cooking, and other 1950s food trends
James Lileks, The Gallery of Regrettable Food
Emliy Contois, Curating the History of American Convenience Cuisine (Follow @emilycontois on Twitter for more foodery.)