Have a drink with: Harold Lloyd
Movie star, pin-up artist, comedy pioneer, adrenaline junkie.
Ask him about: that time he hung off a runaway trolley car.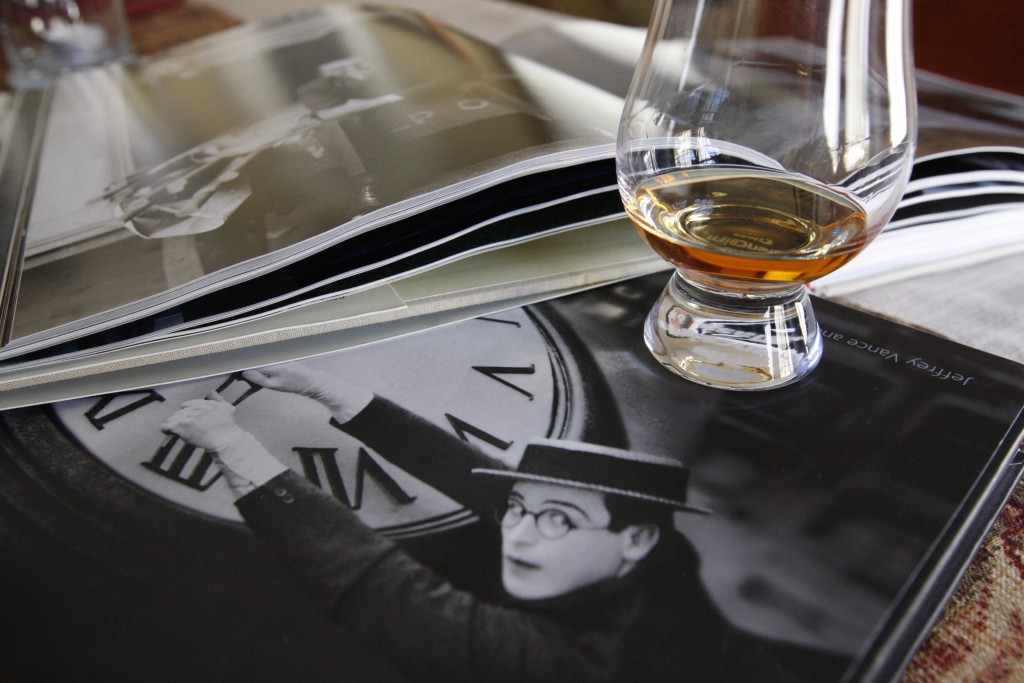 My grandpa told me to watch Harold Lloyd movies for a damn good reason. One of the biggest movie stars of the early 20th century, Lloyd inspired generations of filmmakers and essentially invented the action sequence, so thank him next time you watch a car explode on TV.
Harold Lloyd was born in Nebraska, 1893.  His parents divorced when Harold was young, and the boy spent much of his early life moving around with his father, a sporadically employed huckster nicknamed "Foxy."
The Lloyd men moved to California with the cash from an injury settlement after Foxy was hit by (wait for it) a beer truck, and Lloyd eagerly studied acting while his father tried unsuccessfully to open a pool hall.  Teenage Harold sneaked onto studio lots to get work as an extra, and worked his way up to regular film roles.
Lloyd's first characters in commercial film were attempts to copy Charlie Chaplin.  But as time passed, Lloyd created his own character to replace Chaplin clone "Lonesome Luke."  He decided to make an accidental daredevil out of a wholesome young man in horn-rimmed glasses, since "…funnier things happen in life to an ordinary boy than a Lonesome Luke."
"Someone with glasses is generally thought to be studious and an erudite person to a degree, a kind of person who doesn't fight or engage in violence, but I did, so my glasses belied my appearance."
The Glass Character and his wild stunts became incredibly popular and very lucrative, making Lloyd one of the highest-paid stars of the silent film era.
While shooting a publicity photograph in 1919, a supposed prop bomb exploded in Lloyd's hand, burning his face and blowing off the thumb and index finger of his right hand.  After eight months in recovery, Lloyd returned to filmmaking with a prosthetic designed to hide his injury, and went on to make the most memorable of his comedies, 1923's Safety Last!
Thanks to one image from this movie, chances are you know who Harold Lloyd is even if you've never seen a silent film in your life: a bewildered guy in a suit and glasses, hanging onto the hands of a high-rise clock face as it dangles above traffic.
Lloyd's teetering slapstick pioneered the genre of "thrill comedy," a slush of scary and funny that even his established predecessors came to copy – just think of Charlie Chaplin's teetering house in "The Gold Rush," or Keaton's narrow escape through the window of a falling house in "Steamboat Bill, Jr."
So, about those stunts – no, that doesn't seem remarkable now, but it's in a league of its own when you consider Lloyd willingly hung from a high-rise mockup by a prosthetic hand, with nothing but a mattress on a plywood ledge twenty feet below.  After a safety test in which a dummy hit the mattress, bounced and went flying down to the street below. Take that, Tom Cruise.
When silent films gave way to talkies, Lloyd's star waned quickly.  He had always been good with money, and controlled his own film work – so Lloyd transitioned comfortably to private life.  He became active in the Shriners and their hospitals' administration, and dove deep into his many hobbies, which included microscopy, painting, dogs (Lloyd bred Great Danes among others) and photography.
Lloyd grew up and worked in a period of tremendous development for photography, and he not only realized this but wanted to be part of it. He loved pushing the potential of image capture, from his early efforts in filming realistic action to later-life use of early 3-D technology – in retirement Lloyd shot hundreds of thousands of images using a "stereoscopic" 3-D camera.  Many of these were pin-up or nude shots of Hollywood lovelies, and Lloyd's own fame meant that his models included the likes of Marilyn Monroe, Bettie Page and Jayne Mansfield.
He and his wife Mildred, who had been his leading lady in Safety Last!, lived on a grand Beverly Hills estate called Greenacres, part of which is today designated on the National Register of Historic Places.  He died in 1971.
Orson Welles called Harold Lloyd "…surely the most underrated of them all.  The intellectuals don't like the Harold Lloyd character – that middle-class, middle-American, all-American college boy.  There's no obvious poetry to it, and – they miss that incredibly technical brilliance."
Brilliance.  If Chaplin and Keaton were the poets of the silent film era, Lloyd was its pinball machine: fast, percussive, accessible.  And who doesn't love pinball?
Fun facts:
The famous closing scenes in The Graduate are an homage to Lloyd's frantic race to the church at the end of "Girl Shy."
He had enough star power for Babe Ruth to agree to a cameo in 1928's Speedy, Lloyd's last silent movie.
His most well-known film, Safety Last!, cost a little more than $120,000 to make and grossed $1.5 million – when it cost less than ten cents to see a movie.
Lloyd received an honorary Oscar in 1953, as a "master comedian and good citizen."
Watch: Safety Last! (1923), The Freshman (1925), Speedy (1928)
Additional reading:
Harold Lloyd: Master Comedian, book by Jeffrey Vance & Suzanne Lloyd
Max Winter for Roger Ebert, Why a Modern-Day Harold Lloyd is Unthinkable
The Double Life of Harold Lloyd (on photography)
TCM, on stunts & trivia