Have a drink with: Abercrombie and Fitch
Do's: Rifles, tweeds, pickaxes. Don'ts: flip-flops.
Ask them about: How to build a fish pond on a Manhattan rooftop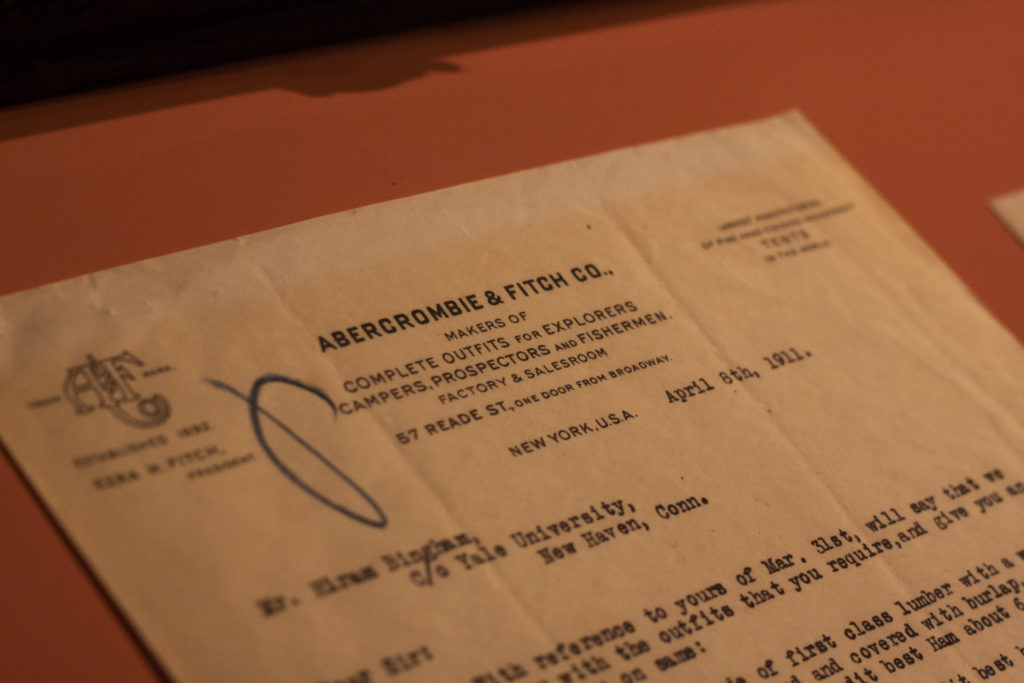 The words "Abercrombie & Fitch" might suggest any number of things to you: overpriced t-shirts for cool kids, shady employment practices, shirtless models, or maybe the soothing feeling of being locked inside a 150-decibel cologne diffuser.
But one of today's most vilified brands was, once upon a time, America's most successful gear shop. Hiram Bingham used A&F as outfitters for the Yale Peruvian expeditions that revealed Machu Picchu to Western culture, and customers like Hemingway and Teddy Roosevelt were known to shop there for their rugged manly provisions of choice (not to exclude the ladies, either: Amelia Earhart liked their suede jackets).
And in the brand's 1970's twilight, a salty old doctor from Cleveland, Ohio found out just what Ezra Fitch meant when he offered a lifetime guarantee.
In the wake of A&F's 1977 bankruptcy, the New York Times fondly remembered the store's "old business style," printing a then-recent exchange between Abercrombie's management and George Crile, Jr., a Cleveland doctor who wrote the company:
"You may remember, it was just 60 years ago, in January 1915, that my father, Dr. George W. Crile of Cleveland, purchased from you a prefabricated sassafras-wood summer house or gazebo. It was my understanding that the structure carried a lifetime guarantee.
My father, with his customary foresight and wisdom, listed the purchase of the gazebo in my name. At the time, I was 8 years old. I grew up romping in the fragrant, barred shadows of that magnificent structure, never dreaming of what the ravages of time would do to the wood of the sassafras or to my own body. Now I am faced with the facts.
In the year 1975 the summer house, like the onehorse chaise, suddenly disintegrated to the point that it was no longer habitable – its struts fell out of their joints and became as creaky as my own. All that remained of the house, as you can see in the accompanying photographs, was a ruin. It was declared unsafe by the Geauga County Fire Department and disassembled.
Before I come to the same stage of dissolution, I would like to live again in the summer house of my childhood memories. Mr. Abercrombie, is the guarantee still good?"
James Troy, assistant to the company president, found Crile's purchase listed under "S" for "sassafras" within the company's "meticulous records" and responded:
"Recalling the early success of the 'lifetime guarantee,' Mr. Abercrombie and Mr. Fitch were loath to drop this effective sales tool, therefore they modified the wording of the 'lifetime guarantee.' They would continue to use the term, but they stipulated that the lifetime guarantee would only be valid during their lifetimes. They, in no way, felt that this would be an advertising subterfuge because Mr. Abercrombie had decided to live forever. Mr. Fitch, regretfully, passed away, and Mr. Abercrombie, confronted with the advent of the Federal income tax, decided to also seek solace in that great gazebo in the sky. Regretfully, Mr, Abercrombie, in a state of what must have been an extremely aggravated mental tension, forgot to change the wording on the 'lifetime guarantee' and that, of course, is the reason that we here at Abercrombie & Fitch no longer are able to give a lifetime guarantee to anyone. I realize the foregoing has been a long and rambling narration, but I did want you to understand our embarrassment at not being able to fulfill your father's understanding."
Enclosing a copy of The Blazed Trail and his kind regrets, Troy continued: "I hope you accept this in lieu of a new gazebo for the reasons stated above and, also, sassafraswood is currently unobtainable."
Fun Facts:
A&F allegedly introduced mah-jongg and its retail and instruction to the U.S. at the inquiry of a female customer, with Ezra Fitch eventually traveling to China to learn more and get the instructions translated. Abercrombie's New York store essentially kicked off the 1920's mah-jongg craze, selling as many sets as they could put on offer. Joseph Babcock, a Standard Oil engineer who picked up the game while on assignment in China, wrote a rule book for Americans in 1920.
Folks usually say Hemingway – a regular customer – committed suicide with a gun he bought at Abercrombie & Fitch, but more recent research rejects that. The Art of Manliness had a great conversation with the gent who researched the puzzle for a book on Papa's guns, and you can also read a 1950 New Yorker article that mentions Hemingway's shopping trips.
Operating from a palatial Madison Avenue flagship store, Abercrombie & Fitch was known for high-quality goods, loyal customers and a particular brand niche we might today call "rugged luxury" – upscale patrons looking to outfit themselves for sporting excursions, camping or travel, or simply to dress in tweedy style. Ads touted the "greatest sporting goods store in the world" to 1920's one-percenters: "the man that travels by sleeper or steamer – the businessman motoring or commuting from his Connecticut estate – the woman that golfs and rides and shoots – the sportsman planning his moose hunt or trip to Montana…"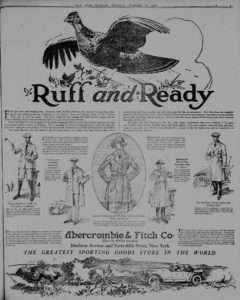 A&F maintained a publishing imprint as well, producing copies of the 17th-century fishing manual The Compleat Angler as well as Audubon work and a mid-century catalog of Andrew Wyeth artwork, all calling forth the idea of the cultured sportsman.
So, wait: if they went bankrupt, how is everyone buying all those t-shirts? A&F operated into the 20th century, but in the 1970's, the foundering brand filed for bankruptcy and was purchased by Oshman's Sporting Goods, which tried unsuccessfully to continue running it as an outfitter. The Limited purchased a majority of stores in the 1980's and attempted to focus on clothing, but the brand consistently lost money. In 1992 new president Mike Jeffries initiated the modern era by directing the brand to sex appeal and youth-focused casual clothing.
And, by the way, brand reinvention is not uncommon: recent memory has also seen a rise in the practice of buying old brand names and repurposing them entirely, retaining little but the "established in" date (e.g., Madewell and its New Bedford history). Branding is story and narrative. And speaking of fantasy worlds, remember when Banana Republic sold actual (albeit campy) safari gear? I friggin' loved those stores.
Additional Reading:
The Glory That Was Abercrombie, the Grandeur That Was Fitch, The New York Times, December 23, 1977
Brilliant: If Teddy Roosevelt shopped at the A&F of today…
Various accounts of the more rugged history of the Abercrombie & Fitch brand courtesy the Smithsonian, some A&F fan blogs (bizarrely, there is such a thing) and A Continuous Lean.
On A&F's legal and cultural downslide, at the New Yorker.
The New York History Blog features a great piece on David Abercrombie's home "Elda."
Hat tip, as often, to the amazing Library of Congress Chronicling America project, where you can find vintage A&F ads and countless other newspaper gems.