Have a drink with: Maria Altmann and Elizabeth Taylor
Art lovers, ladies of style, legal pit-fighters.
Ask them about: goddamn Nazis.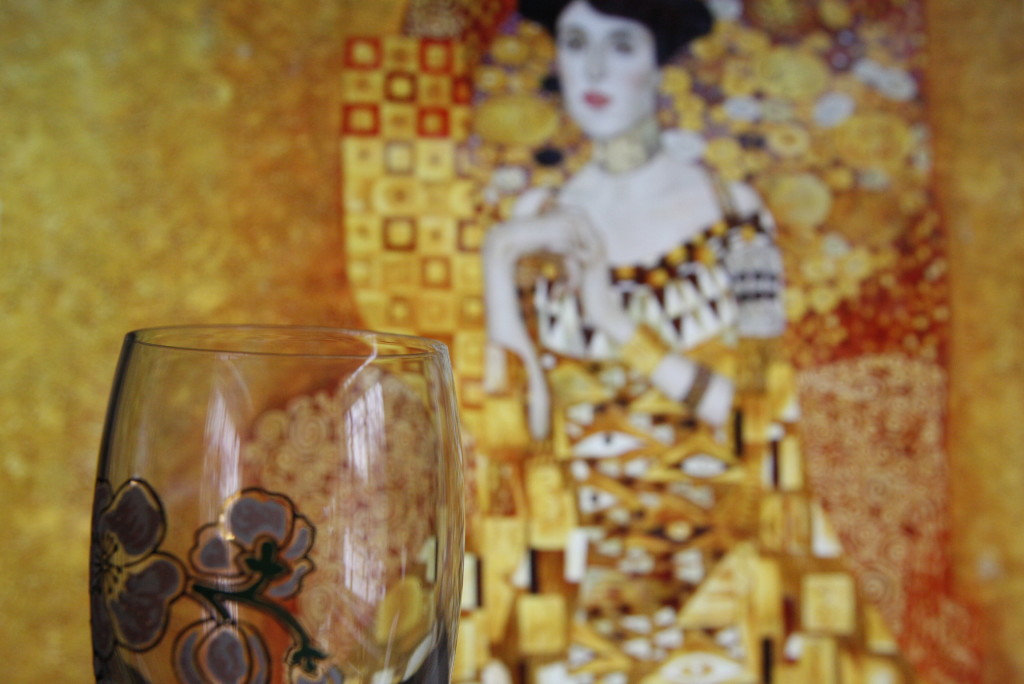 Behavioral advertising is like unexpectedly running into an ex: it seems to know an awful lot about you in ways you forgot you made possible, but for the most part just makes you feel awkward and vaguely regretful.
Thank Facebook for this epiphany, after it pushed the trailer for Helen Mirren's latest movie on me at least seventeen times in a twenty-four hour period.  I'd be pissed at Zuckerberg and crew, too, except that for once technology read me like a cheap novel.  (You can lay off with the juice cleanses, though, Mark.)
"Woman in Gold" is the made-for-cinema story of Maria Altmann, her aunt Adele, and one of the most famous paintings of the 20th century.  If you're into history, law, art and Nazis (and who isn't?), it's a kicker.
Ferdinand Bloch-Bauer was a wealthy Austrian sugar mogul whose wife Adele fostered an artistic "salon" community of discussion and patronage in Vienna that included the painter Gustav Klimt.  In the early years of the 20th century Ferdinand commissioned Klimt to paint Adele's portrait on two occasions; she was the only subject he ever painted twice, and the earlier of the two portraits famously shows her in a geometric haze of gold.  Adele passed away in the 1920's and when Germany annexed Austria in the Anschluss of March 1938, Ferdinand fled the country without the paintings.
The Nazi government confiscated the Bloch-Bauer business and property, and Ferdinand Bloch-Bauer died in November 1945, having spent most of the war in Switzerland.  In his will Ferdinand left his property to his niece, Maria Altmann, and two of her siblings.  Altmann was by then living in California and had become a U.S. citizen.
The family sought to reclaim the Klimts but all indications were that the paintings belonged to the Austrian national gallery through donation by the Bloch-Bauer estate.  A legal case emerged in 1998 when an Austrian journalist discovered evidence that some of the national gallery's artwork – including the gold portrait of Adele – had not been donated as the Altmanns thought, but rather seized during WWII and funneled to the museum.
Maria Altmann filed suit to recover possession of the paintings, following which Austria and the national gallery filed a motion to dismiss (a motion to dismiss asks the court to decide that, even assuming all facts are true, the plaintiff's claim comes up short). On appeal, the case made it up to the U.S. Supreme Court on a very narrow question related to sovereign immunity.
Sovereign immunity is a longstanding tradition, and the basic idea is exactly as it sounds: a sovereign nation is generally protected from legal action. So if Belgium gets really drunk and crashes your car, you're out of luck.  Austria argued that U.S. law didn't permit Altmann to sue for something that happened sixty years earlier, particularly since under 1940's law the U.S. wouldn't have allowed the lawsuit.
Altmann called shenanigans and said Austria wasn't immune under the Federal Sovereign Immunities Act (FSIA) because there's an exception for rights in property taken in violation of international law. The FSIA was enacted in the mid-1970's, and the Supreme Court case basically centered on the question of whether the law was intended to apply to actions that pre-dated it (spoiler alert: yes).
Of course, this has absolutely nothing to do with who actually owned the paintings, and merely cleared the way for the parties to arbitrate in Austrian court.  Arbitrators ruled in Altmann's favor in January of 2006 and Austria was legally required to return the artwork, which was later consigned to Christie's for a record-breaking sale.  The gold portrait of Adele was purchased by Ron Lauder for his Neue Gallerie for an unheard-of $135 million.  The remaining four Klimt paintings owned by the Bloch-Bauers sold for around $190 million.
While it really does make up the biggest share of the story, I fully expect that the movie version will not in fact spend most of its time talking about a fine point of statutory interpretation, and that the filmmakers are going to trust Ryan Reynolds to spice up the black-letter law a little ("Hey baby, how about that expropriation exception?")
So, wait.  All this juicy context, and it gets decided on a technicality?  Yup.  Happens all the time.
For example: in 2007, California courts decided a case pitting actress Elizabeth Taylor against the descendents of a Jewish art collector who fled Nazi Germany in 1939. Taylor had purchased a van Gogh painting entitled "View of the Asylum and Chapel at Saint-Remy" at auction in 1963, understanding it to have been legitimately sold through a number of art dealers prior to her purchase.  The painting was sold to Ms. Taylor for £92,000 and at the time of trial was worth as much as $20 million.  The plaintiff heirs argued that their ancestor was forced to sell the very same painting under duress in 1939, and that it should be returned under a federal statute dealing with Holocaust-era redress.
You might think this ruling would be full of intrigue, celebrity, family histories and a deep dive into the culture and ethics of World War II restitution.  You would, however, be wrong.  The court succinctly stated: (1) first that the federal statute in question did not offer private individuals a right to sue; and, anyway, (2) the heirs had delayed their claim too long.
Liz was listed as the painting's owner in a printed 1970 catalog and had tried to sell the painting at Sotheby's in 1990.  This was interpreted to mean that the plaintiffs "reasonably could have discovered" the existence of the painting and its then-current ownership based on these public acts, and the three years for California's relevant statute of limitations would have therefore been up in 1993 at the latest.  Ms. Taylor therefore keeps her painting.
Well, you say, that's sort of unsatisfying. All that dry and straightforward legal stuff, and we didn't even get to talk about artistic issues, cultural history or celebrity content.  Nobody even pounded a table while arguing to a jury. What gives?
Unfortunately for your uneaten bucket of popcorn, the law loves consistency more than it does entertainment (and usually manages to provide the latter when it least intends). Thank God for Hollywood, then.  See you at the movies.
Fun facts:
Hollywood could stick with World War II art restitution stories for a long time and not run out of drama. "Portrait of Wally" is a painting by the Austrian expressionist Egon Schiele. (Wally was Schiele's mistress, Wally Neuzil). The painting was brought into the U.S. from Austria on loan, part of a 3-year worldwide tour of Schiele works that stopped at MoMA in fall 1997. Heirs of original owner Lea Bondi Jaray alleged that the painting was taken from their family during the war and requested that MoMA hold the paintings until the ownership question was settled. MoMA said sorry, we're sending them to their next scheduled stop in Spain, but three days after the exhibit ended (prior to shipment of the exhibit) the New York district attorney's office issued a subpoena, beginning a 13-year legal battle that ended with the Leopold Museum paying $19 million to settle claims with the family.
The reason the legal case is amusingly entitled "U.S. v. Portrait of Wally?"  Civil forfeiture, which John Oliver brilliantly explains.
For other amusing case names, just browse Justia (my favorite right now: "United States of America v. 3,618 Lamps and Lighting Fixtures.").
The number of cases, restitution efforts and administrative schemes to restore WWII looted artwork is staggering, and only a small look at the true extent of Nazi cultural crime.  Nor are all art looting cases addressed in court or in public like the ones I've described here – entities like the New York Holocaust Claims Processing Office assist claimants with the location and return of financial assets, gold and gems, insurance claims and artwork among other losses.
On sovereign immunity: in more recent years, the concept and the law have gotten attention because of a mid-1990's exception for state-sponsored terrorism, intended to allow American victims of terrorist acts to sue foreign terrorist actors.
Liz Taylor was no amateur collector, and had an estate of jewelry, art and antiques that sold for more than $175 million at auction.  Of course, as of this year her estate is now suing Christie's, so if nothing else the lawyers are still in business.
Ryan Reynolds plays Ms. Altmann's attorney E. Randol Schoenberg, who in a poetic twist is the grandson of weirdo Viennese composer Arnold Schoenberg, who ran in the same circles as the Bloch-Bauer family.
Additional Reading:
Check out the trailer for Woman in Gold, or maybe Helen Mirren's visit to see Adele just last week.  The film has been getting its fair share of coverage throughout production, see: the Art Newspaper, UK press and Hollywood industry press  (while the Art Newspaper glows, Variety claims the film was "Weinsteined to within an inch of its life.")
For my legal geeks (shout out!): case opinions for Republic of Austria v. Altmann, 541 U.S. 677 (2004) and Orkin v. Taylor, 2007 WL 1452924 (9th Cir. May 18, 2007). 
Documentary film "Adele's Wish" takes a different look at the Altmann dispute.
More about  Ms. Altmann via obituaries printed in the Guardian, Economist and the New York Times.
Those Klimts are tricky – the Wall Street Journal just this month mentioned a different Klimt in dispute.