Have a drink with: William Randolph Hearst
"…an especially dangerous specimen of the class."
Ask him: How'd you like Citizen Kane?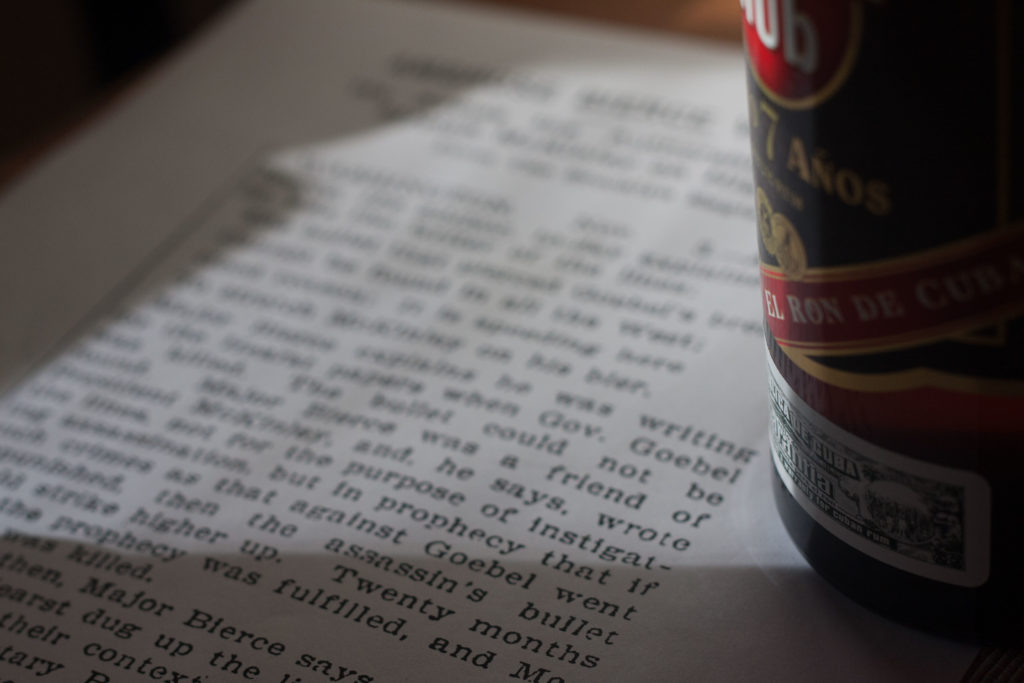 Kentucky's William Goebel, who has the unfortunate distinction of being America's only governor to be assassinated in office, was shot by an unknown gunman in January 1900 during the recount of his own contested election. The author and satirist Ambrose Bierce tactlessly commented in the New York Evening Journal:
The bullet that pierced Goebel's breast
Can not be found in all the West;
Good reason, it is speeding here
To stretch McKinley on his bier.
Bierce was at the time a columnist for William Randolph Hearst's Examiner, and neither was his employer was any fan of President McKinley's; one of the Hearst papers famously ran an anonymous column in 1901 urging that "If bad institutions and bad men can be got rid of only by killing, then the killing must be done."
Suffice it to say that when the anarchist Leon Czolgosz shot President William McKinley at the Pan-American Exposition in Buffalo, New York in September 1901, folks remembered what they'd read in the paper.
According to author Robert Gale, Bierce "shared Hearst's dislike of William McKinley, president since 1896. Hearst loathed his pacifism; Bierce, his protectionist tariff policy, among other policies."
Bierce later backpedaled, claiming in a 1906 New York Times article that his poem was written "not for the purpose of instigating assassination, but in prophecy that if such crimes as that against Goebel went unpunished, then the assassin's bullet would strike higher up." He complained that his words, by then years old, were being dragged out by Hearst's enemies and taken out of context to grind an ax. Hearst likewise distanced himself from any proximate cause of Czolgosz's actions, as his detractors (falsely) claimed the assassin had a Hearst clipping in his pocket.
And look. The point is not whether or not Bierce or Hearst truly meant their words, but that those words could fall dangerously on receptive ears, no matter how much post-hoc PR dancing happens after they're spoken. It's like yelling "fire!" in a crowded theater or, if you want to get legally geeky about it, incitement to "imminent lawless action." It's not only a bad idea, it's unconstitutional.
Donald Trump regurgitated some particularly ugly history when he suggested that "If [Clinton] gets to pick her judges, nothing you can do, folks…although the Second Amendment people — maybe there is, I don't know."
Maybe the 14th, 15th and 19th Amendment folks can get on it, though.
Fun Facts:
Hearst hoped to mount a presidential run in 1904 but never managed it, in part because of the belief that he had, either carelessly or on purpose, invited violence against McKinley. He later ran for New York City mayor and for state governor, losing both elections (he did serve in Congress). A 1906 speech by Secretary of State Elihu Root, given at President Teddy Roosevelt's request, characterized Hearst as "a violent and unworthy demagogue and persistent office seeker" who was "not guiltless of McKinley's death."
Also, "…while inveighing against corporations, his own corporation management shows the insincerity of his professions; that it is not calm and lawful redress of wrongs which he seeks, but the turmoil of inflamed passions and the terrorism of revengeful force; that he is guided by selfish motives." AHEM.
Peter Bogdanovich's film The Cat's Meow (trailer) speculates about a mysterious death in 1924 on a celebrity party aboard Hearst's yacht. (Also, check it out: every costume in the movie is entirely black and white.)
Hearst's longtime mistress Marion Davies was last year featured on the splendid podcast You Must Remember This.
Ambrose Bierce disappeared. Really.
The day the Los Angeles Herald reported on Elihu Root's speech, they also let us know what President Roosevelt was up to: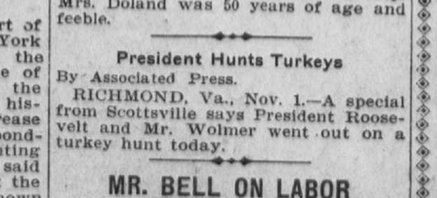 Additional Reading:
Sarah Vowell, Assassination Vacation
A McKinley Moment?, The Washington Post, January 10, 2011
If you read anything today, make it this fantastic profile of William Goebel (and the violence of late 19th century Kentucky) in NEH's Humanities magazine (The Late Governor Goebel, NEH Humanities, July/August 2013)
From the Stacks: Mr. Hearst's Apostolic Creed, The New Republic