Have (many) drinks with: Thomas Fitzpatrick
Hold my beer.
Ask him about: air traffic control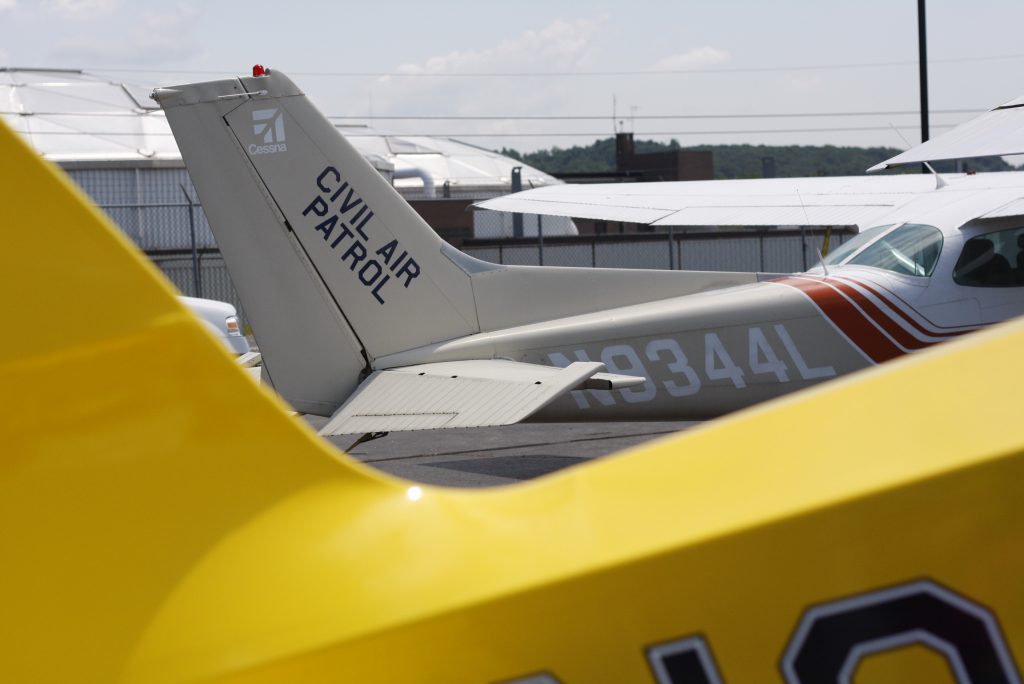 Just last month, a small plane made an emergency landing on a busy street in Washington state (apparently even managing, no small feat, to stop for a red light). These sort of landings are not uncommon, as unusual as they may seem: in the past few months of 2019 alone, small craft have needed to land in decidedly non-airport locations in Florida, California and New Jersey.
For the most part, though, these pilots made the best of a bad situation, and certainly didn't start their flights thinking they would have to come up with creative landing plans. Back in 1950s New York City, however, there was one pilot in particular who not only enjoyed the practice of, shall we say, non-traditional landings, he very purposely drunk-landed a Cessna on a New York City street. Twice.
Meet Tommy Fitz.
On September 30, 1956, twenty-six-year-old Fitzpatrick – a steamfitter and mechanic – was drinking with some friends at a bar in Washington Heights, after attending a friend's bachelor party nearby. As the drinks got flowing, Fitzpatrick made a bet with another patron that he could make it back to the Heights from New Jersey in fifteen minutes. Thinking that he had to be so far in his cups to have lost all concept of time, the rest of the bar said sure, whatever you say, Fitz, and went back to their conversation, presumably not thinking much about Fitzpatrick after he strode out the door.
Meanwhile, Thomas Fitzpatrick made his way over the George Washington Bridge and out to Teterboro airport (about a ten-mile trip), walked right up to a single-engine Cessna, flew it off the taxi-way for incoming planes, and was over Manhattan within a matter of minutes. He came down over the city rooftops and placed the aircraft for touchdown on Saint Nicholas Avenue at 193rd Street, then taxied the plane for two blocks to bring him precisely back at the bar from which he had left – "just in time for a quick one before the 3 A.M. Sunday closing time," according to the New York Daily News.
The plane had to be taken apart to be removed from the street, and made for a lot of very interesting news coverage. (Bail was set at $5,000 as a "deterrent to other foolish young men who get drunk and fly a plane.")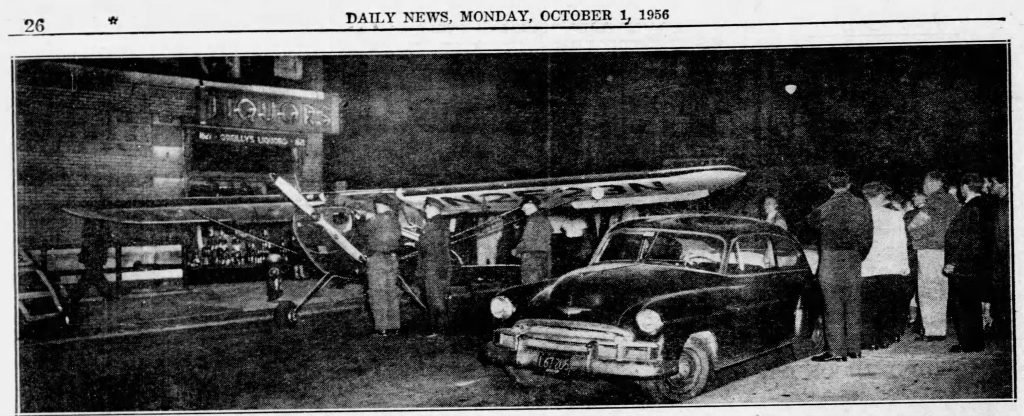 About that "deterrent" thing.
Two years later, on an early October evening at about 12:35 a.m., Fitz was once again out drinking and happened to let slip the story of his little airplane "rental." A fellow patron from Connecticut claimed that he didn't believe a word of this overblown fish story, and, you guessed it: Fitz decided to go out and do the whole thing AGAIN. He stormed back out to Teterboro, commandeered a plane belonging to the airport's flight school, and headed back for Manhattan. Fitzpatrick zoomed over a bus parked at 191st and Amsterdam when coming in for a landing, leading the driver to comment: "What the hell could you say if they ever pulled you in on a safety hearing for having an accident with an airplane?"
Fitzpatrick was charged with grand larceny and a handful of other charges related to drunken endangerment of life and property while flying a stolen aircraft through city streets. News coverage from 1959 notes that Fitzpatrick was sentenced to six months in jail for larceny for the second flight, with the judge admonishing: "The last time, you paid a $100 fine. Had you been properly jolted then, it's possible this might not have occurred a second time." Citing Fitzpatrick's military service as a Marine, and his otherwise good record, the judge let him off with six months' time.
In February 1959, sentence was imposed on the flying-while-intoxicated charges – a concurrent six-month term, which kept Fitzpatrick in jail for a total of six and a half months.
Fun Facts:
Original coverage (and Fitz's own story) claimed that the street landing was a second choice, that the pilot had intended to land at the nearby high school in a field, but that dark conditions made it impossible to follow through on that plan. It later emerged that the whole thing was a bet, and that Fitzpatrick had been attending a friend's bachelor party and was in his old neighborhood at the local bar.
Fitzpatrick died in 2009. He was as bold a man in his everyday life as he was in his bar bets: he was a New York City steamfitter for fifty-one years and married for just as many. He not only served in the Pacific theater in World War II as a Marine, after his honorable discharge he joined the U.S. Army and served in the Korean War. (His obituary made no mention of his airplane escapades.)
Dinner Party Download offers a "Late Night Flight" cocktail invented by a modern Washington Heights bartender in Fitz's honor.
Headline writers had a field day with Fitzpatrick, with winners including "Tipsy Flier's 1/2-Yr. Rap Has 2-Wk Chaser," "Crackpot? Nah, Just An Early Settler," "Another Fitzpatrick Travel-Log (Aerial)," and "How High Can A Pilot Get?"
Additional Reading:
"Festive Flyboy Lands Plane in Uptown Street," New York Daily News, October 1, 1956
"Court Grounds Whoopee Flier for 6 Months," The Record (Hackensack), January 27, 1959
"Street Flier Must Serve More Time," The Herald-News (Passaic), February 11, 1959