Have a drink with: Spike Jones
The best offense is a good fart joke.
Ask him about: firearms as percussion instruments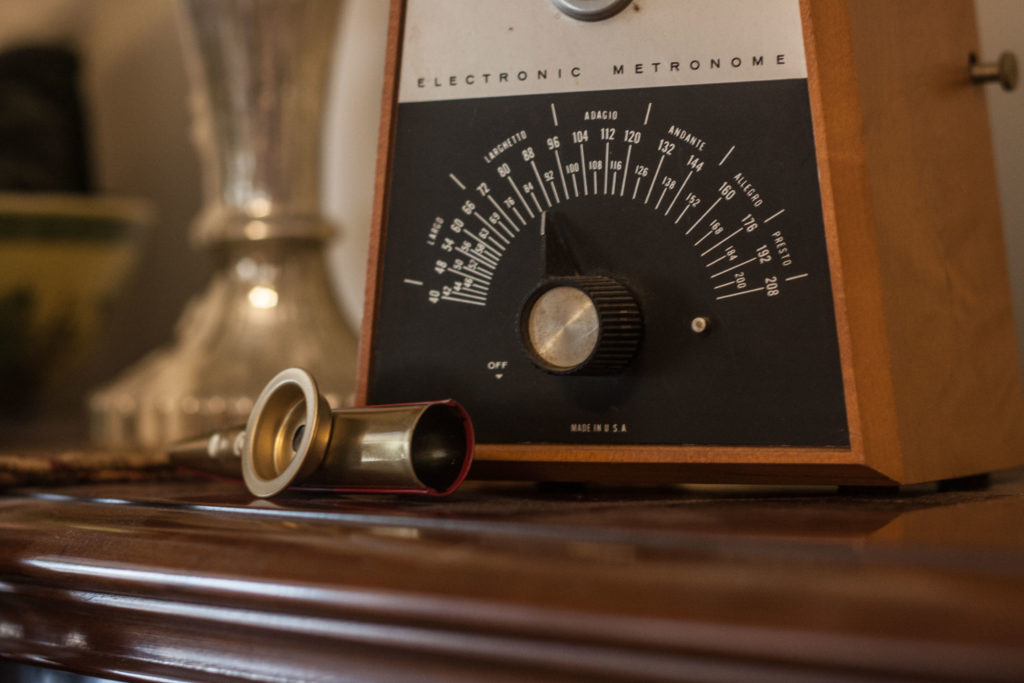 In 1942, New York radio DJ Martin Block sold war bonds on air – to an audience that was under wartime food and gasoline rationing – on the promise that he'd give a free record to any listener who bought a $50 bond. Every time the pledge total went up another $2,500 Block played the single in question on-air, to cheers and peals of laughter.
The song was "Der Fuehrer's Face," by Spike Jones and his City Slickers, and Block sold $60,000 of bonds inside a week.
Because you can argue, you can petition; you can organize demonstrations and engage in politics; but sometimes the most effective piece of international policy dialogue is a Bronx cheer.
"Der Fuehrer's Face" was written on assignment for Disney by composer Oliver Wallace, who also wrote music for Donald Duck cartoons and the movies Peter Pan and Dumbo. The song made its way to bandleader Spike Jones, who recorded it on July 28, 1942 with his raucous comedy-big band combo, the City Slickers.
Spike was a studio drummer turned bandleader whose noble, subversive mission was to gather the most talented musicians he could find and make them do very silly things. His band was a kinetic, irreverent group of performers who specialized in explosive parody of classical music – a natural fit for Wallace's anti-Hitler song, which they punctuated with derisive raspberries and jabs at Nazi egotism.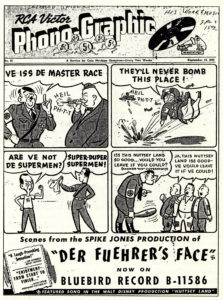 The song was a breakout hit, and its success led Disney to change the title of their upcoming animated short (in which the recording featured) from "Donald Duck in Nutziland" to "Der Fuehrer's Face." Released in 1943, the cartoon – which depicts Donald Duck as a frantic cog in a German munitions factory – won the Oscar for Best Animated Short Film.
The band made the most of its sudden fame. Through the war they visited army hospitals, made special "V-Disc" records and took on a 9-week USO tour in 1944 to perform for Allied forces in Europe. The band played some 21 shows for fellow passengers on their troop ship across the Atlantic (even though their contract didn't begin until London), sat in with Glenn Miller's band at a party, and performed on French beaches to 16,000 service members while Patton's troops were still clearing land mines.
The City Slickers were at their best on tour, and by the mid-1940's their show had evolved into a smash two-hour Musical Depreciation Revue; Spike wore garish, custom $500 windowpane suits, played a rack of tuned cowbells and nightly unleashed a variety show of firearms, slapstick performance, virtuosity and pantomime.
Preached after his death thanks to the likes of Dr. Demento and Weird Al, Spike's legacy of mayhem and musical dissent lives on – not least because, as Jones' biographer Jordan Young notes, among the handful of recorded versions of "Der Fuehrer's Face," Spike was "the only one who dared to give the Bronx Cheer to Hitler."*
Fun Facts:
Between Charlie Chaplin lampooning Hitler in The Great Dictator, Dr. Seuss taking an early stand against isolationism with his editorial cartoons, and Disney making an entire series of propaganda films starring Donald Duck, World War II was a golden age for American satire.
And if you don't believe humor is a major tool of political dissent, just ask the Norwegians and their Christmas hats.
Spike's workaholism meant the band didn't take touring halfway. The June 25, 1949 Billboard recap of the City Slickers' "violently enjoyable" tour notes that the band grossed $1,212,313 in box office on a four month tour – in which they played 124 shows in 101 towns, drawing 460,023 paying customers. (That's about $12.3MM in modern money according to government indices.)
In the same issue of Billboard, authors note that the CBS network has yet to figure out a solution to the pesky problem of what to show on television in the daytime. Execs worried "that the nighttime programming picture wasn't entirely licked, that there was still a shortage of space for production and that an entirely new program concept would have to be worked out for daytime shows…CBS TV has tinkered with soap operas and given them dry runs…but wasn't happy with this kind of show for TV."
Merry Christmas! One of Spike's biggest hits was the seasonally appropriate "All I Want for Christmas Is My Two Front Teeth."
Elvis Costello allegedly named his 1989 album Spike, which he called "my first foray into comedy records," after Jones.
Additional Reading:
*Jordan R. Young, Spike Jones Off the Record: The Man Who Murdered Music (20th anniversary ed. 2005)
NPR, All Things Considered, Remembering Spike Jones and his City Slickers
Sven Stillich, Donald Versus Hitler: Walt Disney and the Art of WWII Propaganda, Der Spiegel, August 10, 2009
The Library of Congress, Hope For America: Performers, Politics and Pop Culture