Have a drink with: King Edward VII, aka "Bertie"
Sportsman, monarch, don't mention the lobster
Ask him about: Holiday weight gain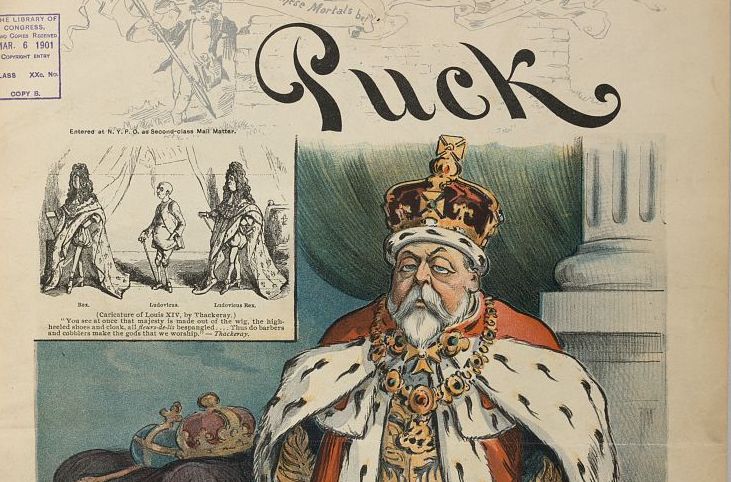 It's movie awards season, which means I have been trying to catch up on all the "for your consideration" titles I didn't get to over the course of 2021. Last week I caught Spencer, in which Kristen Stewart plays Princess Diana during a tense holiday weekend with the royal family at their Sandringham estate. In the movie, as Diana arrives for the festivities she is informed by the house manager that all guests must, per the queen's request, weigh themselves before and after the holiday on a set of antique scales. The tradition is said to have begun with King Edward VII, as a way of figuring out whether his guests had sufficiently enjoyed themselves under his hospitality – three pounds being enough gain to show that guests had properly indulged.
Do we know if this whole scale story is true? A leading royal columnist says so, and there is indeed a 19th-century jockey's scale on display to guests at Sandringham. But the story is hard to back up to satisfaction, not least because the royals are not exactly known for publicizing their in-jokes.
But would King Edward VII (nicknamed "Bertie" within the royal family) have gone for such a practice? I'd certainly buy that he believed a minor food-baby was an appropriate measure of a good time. This is a man who was so fond of epicurean pleasures that his nickname was "Tum Tum," and who postponed his coronation over the fallout from an epic lobster dinner.
Edward was the oldest son of Queen Victoria and Prince Albert, and thanks to his mother's legendary stamina and long life, Edward did not rise to the throne until he was nearly sixty years old. This gave him plenty of time to develop the sort of habits that go well with idle wealth, and he gained a reputation as an indulgent playboy (Victoria blamed him for Albert's death, as the prince died shortly after visiting Edward to chastise him over an affair with an actress).
His habits extended to food, as well, and Edward took on twelve-course menus routinely. He had a special chair commissioned so that he could continue to service his various mistresses without his girth getting in the way. Edward adored Sandringham, which was maintained as a grand hunting estate for entertaining guests and obliterating game birds by the thousands – but make it fashion (in 1907 Fabergé was commissioned to model the menagerie in precious materials).
And when it was time for Edward to ceremonially take the throne in 1902, it almost didn't happen, thanks in large part to  a shit-ton of lobster. According to biographer Jane Ridley, Bertie traveled in June 1902 to attend the sort of ceremonial military review that was common on the royal calendar. "After gorging on a large quantity of tough lobster," writes Ridley, "he had got wet at a military review at Aldershot." His subsequent abdominal pain and bloating only got worse, and after a few missed royal appearances (which gave rise to a wild conspiracy theory that he was really hiding out from an assassination plot) the king postponed his coronation, and underwent surgery on June 24th to drain his appendix. He was smoking cigars and reading Sherlock Holmes novels in a matter of days, and the coronation happened in August.
Fun Facts:
Video of Edward at Sandringham exists, noting that the king preferred his horse to more modern conveyances.
Edward adored his fox terrier Caesar, so much so that the dog is sculpted on the king's tomb, curled up at his master's feet. Caesar, beloved by king and public alike, "wrote" a tear-jerker of a book after the king's passing.
Lawyers know all about Bertie's coronation because it caused key developments in what's called "frustration of purpose" cases in contract law. Folks who made plans for the coronation – renting apartments to get a good view of the parade, for example – filed suit after the postponement saying that they should get their money back because the fundamental purpose of the rental had been taken off the table.
Additional Reading:
Jane Ridley, The Heir Apparent: A Life of Edward VII, the Playboy Prince (2013)
Royal Menus, The Royal Menus of Edward VII