Have a drink with: Black Historians
Ask them about: Maybe just listen.

Here's something I found while I was researching this week. It's a column from a September 1863 issue of Scientific American: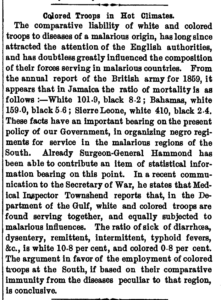 Part of the process of researching a subject is looking at all the adjacent issues that you encounter along the way, building a sense of daily consciousness and public culture in a given era. And I was still shocked – and absolutely should not have been – at the clinical distance with which the authors talk about black soldiers in the Civil War, and the suggestion that even the Union army thought of black men as such commodities that they'd rather send them in than risk white soldiers dying of malaria.
So it's time to sit in that discomfort, and recommend that we all do more to understand America's history of inequality. There are a lot of titles here, and this is just a small selection. I'm not going to link them – you can choose where you'd like to purchase (but bookshop.org and indiebound.org are cool because they help you support your favorite local bookstores).