Have a drink with: Sir Arthur Conan Doyle
Elementary, my dear Watson.
Ask him about: ghosts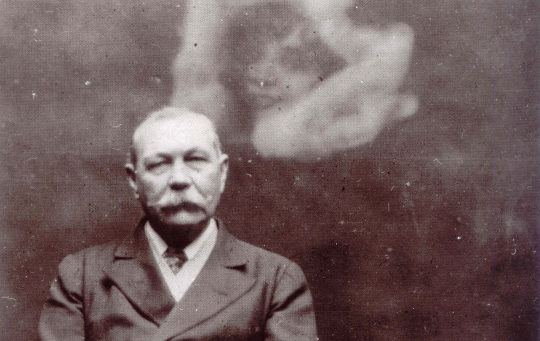 In the early 1920s, folks in America were generally worn out, in a not unfamiliar way. The geopolitical situation was fraught in the wake of World War I, racial tension was high after the 1919 "Red Summer" race riots, extreme weather events popped up to keep people generally bewildered and awash in adrenaline, and oh, by the way, giant influenza pandemic.
Which goes a fair way to explain why spiritualism – the school of thought that believes we humans can connect with the spirits of the deceased in the great beyond through means like mediums, spirit writing, channeling and photography – experienced a resurgence of popularity in the early 20th century. And there were few spiritualist advocates more ardent – or more famous – than Sherlock Holmes author Sir Arthur Conan Doyle, who toured America in 1922 waving a Go-Team-Go flag for the spiritualist cause.